"Onze bewoners zijn erg blij met een storingsvrije lift"
Staat de lift in jouw appartement alweer stil? Het is de nachtmerrie van veel VvE bestuurders en bewoners. Als VvE-bestuur wil je weten waar je aan toe bent als het om liftonderhoud gaat. Op de lange termijn kosten besparen en ontzorgd worden rondom je lift. Sommige hebben die wens onlangs al in vervulling zien gaan. Bij Mitsubishi ligt het storingspercentage 50% lager dan bij andere liftleveranciers. Dit resulteert al jaren in een storingspercentage van 1,5 keer per jaar tegen een marktgemiddelde van 3. Hoe dit wordt ervaren?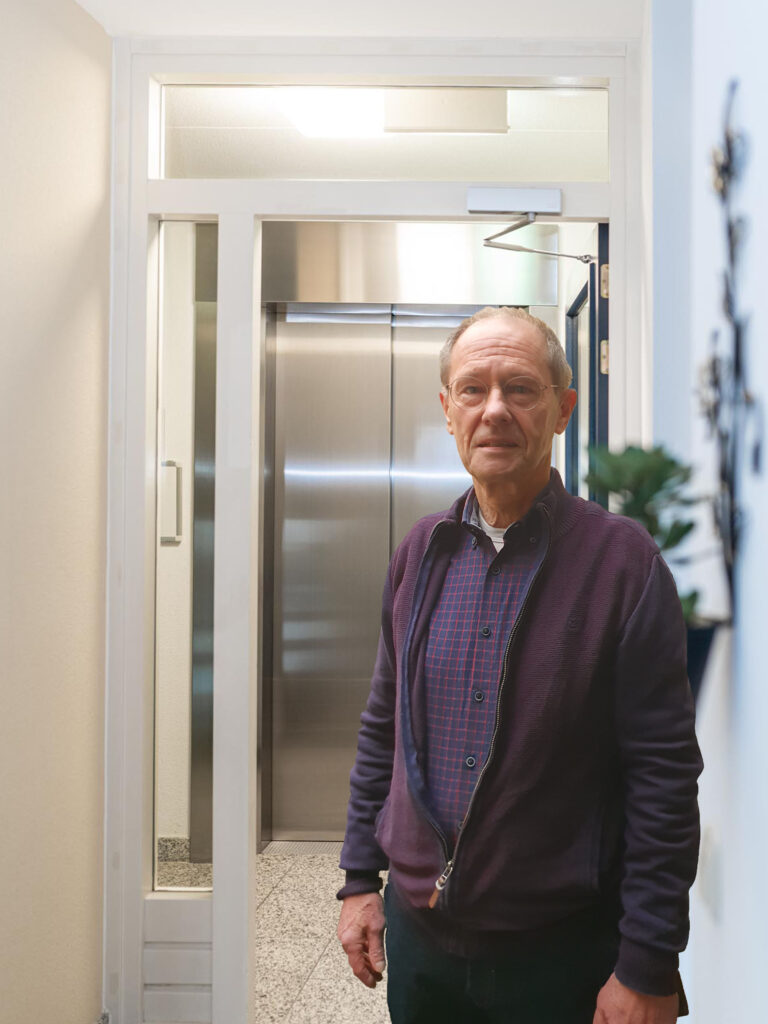 Breunis van de Pol, medebestuurder van VvE Residence du Sud uit Veenendaal, vertelt dat in zijn appartementencomplex 2 jaar geleden een liftrenovatie heeft plaatsgevonden. Inmiddels maken zij nu 2 jaar gebruik van een nieuwe Mitsubishi M-Use® lift. M-Use® is een duurzaam gebruiksmodel voor liften, waarbij de betaling jaarlijks wordt gedeeld met de bewoners. De lift blijft eigendom van Mitsubishi. ''De liftkosten konden bij ons op jaarbasis oplopen tot ruim € 9.000. Bij Mitsubishi zijn we voor een periode van 20 jaar voor een volledig nieuwe lift inclusief all-in onderhoud en keuringen door derden € 6.500 per jaar kwijt.'' Over het de kwaliteit in combinatie met het onderhoud kan hij kort zijn: ''Sinds de installatie in februari 2018 hebben wij nog geen storing gehad, wij ervaren M-Use® dan ook als geweldig. Ik krijg nog steeds complimenten van mijn medebewoners over ons besluit.''
Door de hoge kwaliteit maar één storingsmonteur in Zuid-Holland actief
Onlangs spraken wij met servicemonteur Danny Roos. Hij is werkzaam in de regio Rotterdam. Met regelmaat onderhoud hij liften bij VvE's. Hij vertelt hoe zijn werkdag als liftmonteur eruit ziet en hoe hij omgaat met liftstoringen. ''Bij Mitsubishi staat kwaliteit boven kwantiteit. Zo ervaar ik dat we niet meer dan 1 tot 1,5 storing hebben per jaar, terwijl het landelijke gemiddelde op 3 ligt. Ook is het mooi dat we in de regio Zuid-Holland maar één storingsmonteur hoeven in te zetten, terwijl dit één van de grootste gebieden is. Hieruit blijkt dat de kwaliteit van onze materialen goed is en we een product hebben waar we achter staan."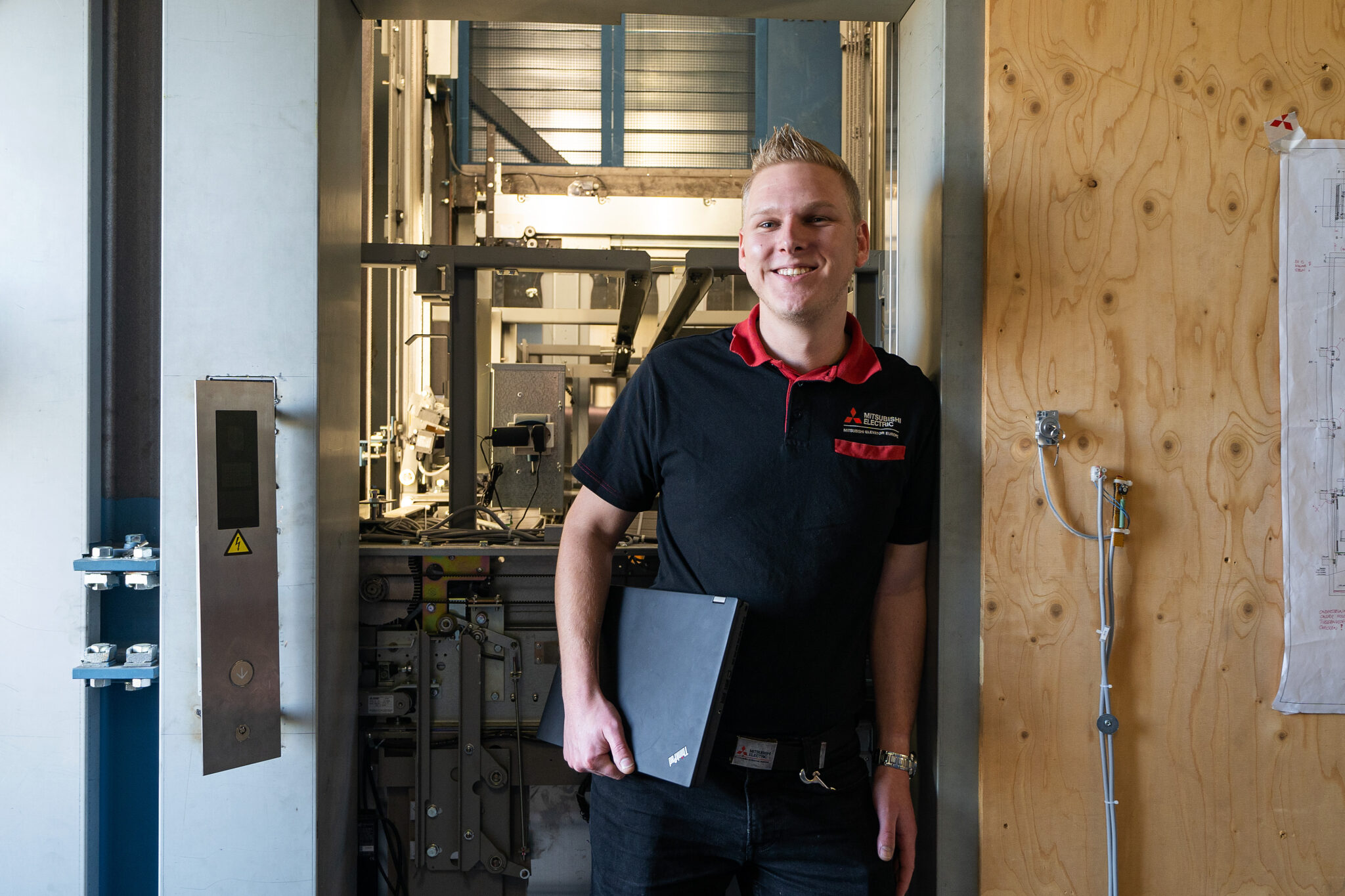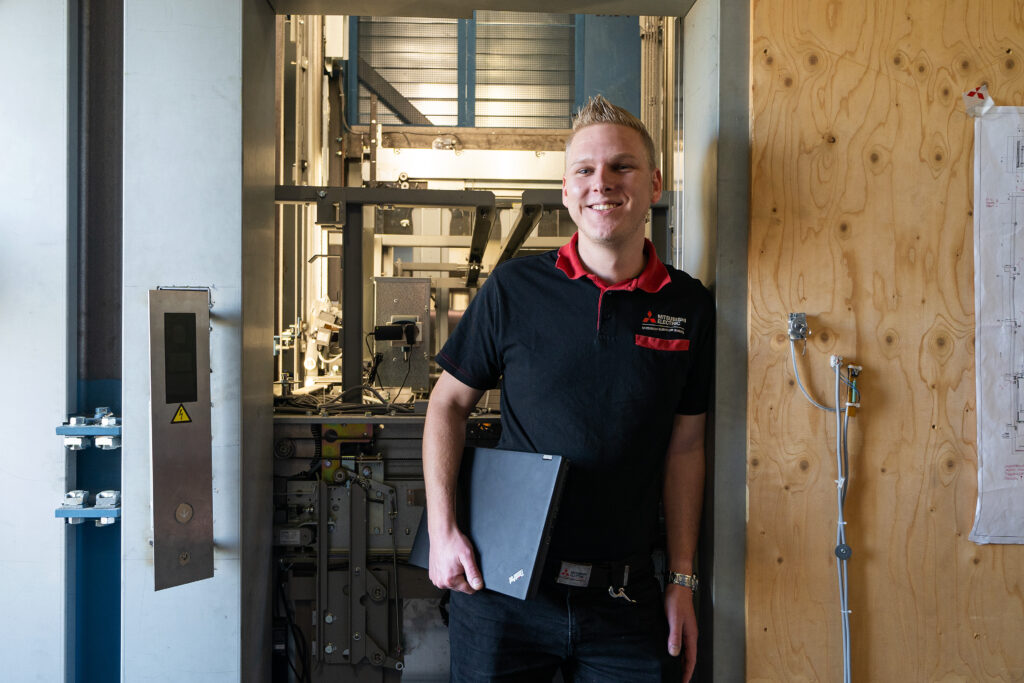 Laag storingspercentage
Hoe komen wij aan zo'n laag storingspercentage? Als wij onze liftmonteurs deze vraag voor leggen komen er twee punten naar voren. Een groot deel is te wijten aan de kwaliteit van de liften, het andere deel aan de tijd. Bij Mitsubishi wordt er namelijk 2x zoveel tijd besteed aan liftonderhoud als bij andere onderhoudspartijen.
Onze liften worden continue gemonitord vanuit Nederland, maar ook vanuit het hoofdkantoor in Japan. Zo kan er bij een storing snel worden gehandeld en wordt bij het mankement meteen gekeken of dit voor andere liften ook een probleem kan worden. Als er duidelijk is hoe we de storing preventief kunnen oplossen, wordt er vanuit Japan een training opgesteld voor onze liftmonteurs. Door de hedendaagse technologieën kan het dus zijn dat een storing aan de ene kant van de wereld, een oplossing biedt voor liftproblemen aan de andere kant van de wereld. Mooi toch?
Meer weten?
Wil je meer weten over onze onderhoudstechnieken en hoe wij deze kunnen toepassen bij jouw VvE? Download onze onderhoudsbrochure of neem contact met ons op via het onderstaande formulier.
Download de onderhoudsbrochure